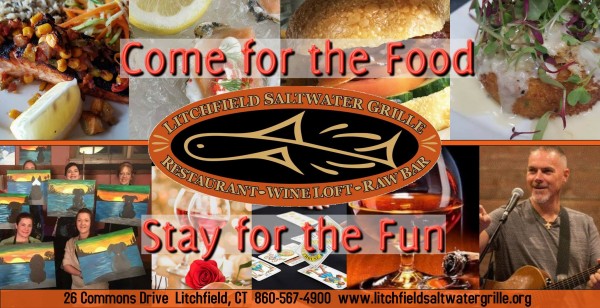 You will find we have traditional Midwestern hospitality and warmth with an affection for good food. 
Saltwater Grille has a number of special elements that make it a great choice:
(Click links for menus and additional information)
~ Warm, charming atmosphere in the historic district of one of the most iconic New England towns: Litchfield, CT
~ The best seafood and raw bar in the Northwest of Connecticut, as well as a great meat selection and vegetarian fare ~Brunch Served on Sundays from 11am-2:30pm with a Build Your Own Bloody Mary and Mimosa menu!
~ An on-the-go or sit-and-relax lunch menu served on Saturdays
~ Family-friendly kids menu with something for almost everyone
~ Live music every Thursday night and the occasional Friday 
~ Wine Dinners, Patio Events, Cigar Dinners and many other fun events!
~ Five separate dining/lounge areas plus an outdoor patio that can seat 60+ during the warmer months allows for a variety of experiences
~ A huge selection of craft beers and wine experiences
~ Casual or fine dining service from our friendly staff
~ One of the best bar scenes in the area with an Award-Winning happy hour - Monday - Friday 4pm-6pm
~ Tarot Card Readings every Friday from 4-7pm
~ Dress as comfortably or as festive as you wish!
Upcoming Events
  6:30pm-9pm  Five Course Meal Paired with Wines According to the Theme
July 10th - Born in the USA
August 14th - Gooseneck Vineyards
September 11th - Wine Spectator 90+ Point Wines
October 9th - Local Wines
November 13th - Barrel Aged Wines
December 11th - Holidays Around the World
Patio Series:
Paws on the Patio - Sunday, June 30th 4pm-6:30pm
with Captain Lawrence Brewing Company and Litchfield Pet Supply
Pours on the Patio - Sunday, July 21st 4pm-6:30pm
with Litchfield Distillery
Pairs on the Patio - Sunday, August 25th 4pm-6:30pm
The last Wednesday of every month until November
7:30pm-9:00pm
Prix Fixe Menu with Specials
Happy Hour
Monday - Friday 4pm-6pm
Menu: www.saltwater-grille.com/happy-hour
Live Music
Every Thursday Night - Live Music with Jeff Conlon
Fridays - June 28, July 26, August 23, September 27th - Live Music with Lucinda & Michael