THE HOME OF FARM FRESH GOODNESS

The Bishop family represents the fine tradition of growing and selling the finest quality native fruits and vegetables. We have everything for your cost conscious meals and family gatherings, from wines and soup, salads, vegetables and fruits to prepared foods, including trays of our most popular dishes! Don't forget cider, meats and of course pies!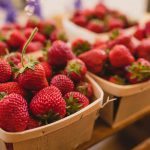 For specialty events or last-minute gifts, do not fret, as we offer one-of-a-kind fruit baskets, gifts baskets, cheese trays, vegetable platters, and cookie trays to order. To complement your order, make sure to pick up an item from our full-line of farm-fresh quality produce, fresh-cut flowers, milk, eggs, jams, honey, cheeses, breads, dried fruits and nuts.
In addition to our family-owned market, Bishop's has partnered with VanWilgen's Garden Center of North Branford as our preferred plant supplier. This valued partnership is in its 6th year and we are readily available to provide horticulture service before or after you do your grocery shopping between the months of April through October. As a one-stop shop location, Bishop's Orchards and VanWilgen's Garden Center look forward to helping you create a great garden for 2016!
Grab N' Go Orders
Pies, Platters & Crock Pot Orders – 
Enjoy the convenience of our Grab N' Go Pies, Platters and delicious Crock Pot Meals! Bishop's Orchards strives to make your holidays easier with the convenience of everything already done! Place your orders ahead of time online or by giving us a call and let us know your pick-up date/time so that we can guarantee your items.


Our Farm Market, Winery and Bakery is open year-round and conveniently located in Guilford CT near exit 57 of I-95. Treat friends and family to our variety of Farm Gifts and our selection of Fruit Baskets. Come see our Llamas, Alpacas and Goats too! Watch our G Scale Train with cars from the NYNH Railroad circle above your head.
Our wine bar is open year round and for tastings Monday through Saturday from 8:00 a.m. to 6:30 p.m. and Sunday 10:00 a.m. to 5:30 p.m. To ensure everyone experiences a well-rounded tasting, we close our wine bar a half hour before our farmer's market closes which is at 7:00 pm Monday through Saturday and 6:00 p.m. on Sunday. Winery Tours are held on Saturday and Sunday at 2:00 p.m. with a $6.00 per person fee or $14.00 per person when paired with a full tasting.